White Ribbon Accredited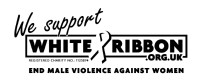 Wrockwardine Parish Council have taken a stand to end all male violence against women by becoming White Ribbon Accredited. White Ribbon is a global campaign that encourages people, and especially men and boys, to individually and collectively take action and change the behaviour and culture that leads to abuse and violence.
The Parish Council's 7 actions are:
1.To encourage all staff, councillors and volunteers to make the White Ribbon Promise to never commit, excuse or remain silent about male violence against women.
2. Recruit at least one male White Ribbon Ambassador (or woman Champion if there are no male staff who can undertake this role).
3. Wear a White Ribbon and display it where appropriate - especially around White Ribbon Day, 25th November.
4. Post the 'White Ribbon Supporter' badge on our website.
5. Hold at least one awareness and fundraising event or activity a year.
6. Ensure we have policies and protocols in place if staff, councillors, volunteers or residents disclose that they are a victim of violence.
7. Make sure women know where to get help, through posters, find help cards etc.